Events - Distributor Training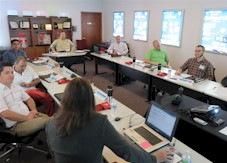 Typically, we conduct Distributor Trainings at our U.S. headquarters throughout the year. Due to the pandemic, and various travel restrictions from our channel partners, we've adjusted our approach.
We strongly encourage e-learning via our Online Training Modules as an alternative (link below), or if you prefer, contact your Carlo Gavazzi salesperson, and we'd be more than happy to conduct a webinar one-on-one, with your staff, or with you and your customers.
Link to Online Training Modules
Click for our Online Training Modules
Registration for Webinars for our authorized Distributors
Moving forward in 2021, starting in July, we'll be conducting Webinars for our authorized Distributors, every other week, on our various products and application/market solutions.
Date
Course
Time
Registration

CONTROLS

July 16
Energy Meters: High-Level Overview
1:00 PM
CST
Register
July 30
Energy Meters: Applications and Market Solutions
1:00 PM
CST
Register
Aug. 12
UWP3.0 Universal Web Platform: High-Level Overview
1:00 PM
CST
Register
Aug. 26
Understanding the Common Variables Measured in an Energy Meter
1:00 PM
CST
Register

SWITCHES

Sept. 9
Solid State Relays: Product Overview
1:00 PM
CST
Register
Sept. 23
Solid State Relays: Applications and Market Solutions
1:00 PM
CST
Register
Oct. 7
DIN Mount Solid State Relays and Contactors: High-Level Overview
1:00 PM
CST
Register
Oct. 21
Panel Mount SSRs and Heat Sinks: High-Level Overview
1:00 PM
CST
Register

SENSORS

Nov. 4
IO-Link : What is it?
1:00 PM
CST
Register
Nov. 18
IO-Link : Why?
1:00 PM
CST
Register
Dec. 2
IO-Link : Applications
1:00 PM
CST
Register
Dec. 16
IO-Link : How to Sell
1:00 PM
CST
Register
© 2023 Carlo Gavazzi