Summer 2017 - Carlo Gavazzi is proud to announce the launch of the new compact, 45mm wide RSGD Series Soft Starter. The RSGD is an easy to use soft-starter for 3-phase induction AC motors, needing just three settings. The self-learning algorithm adjusts the soft starter parameters to work with different applications and varying load conditions. It is active at every start to ensure that the motor always starts with the optimal settings. New current balancing algorithm keeps the current unbalance to less than 15%.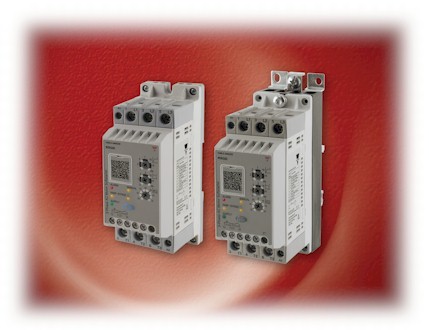 The RSGD Series offers an option for Class 10 electronic overload, providing advanced motor protection and resulting in further space savings in the electrical panel. Phase sequence protection can be enabled and disabled easily through the integrated push button, thus simplifying installation in applications that require reversing. Torque controlled ramp-down results in much smoother deceleration of motors. All these features are offered in one of the most compact soft starters on the market. With the launch of the new RSGD Series, some of the preceding products in the product family are now discontinued. Please see the pricing file for further details.
The new 45 mm RSGD Series Soft Starter offers time and space-saving installation. It conforms to global standard UL508 and IEC/EN/60947-4-2. Therefore it can be used worldwide for control of pumps, fans, and compressors in markets such as Water Treatment, Agriculture, Building Automation, and HVAC.
The features of the RSGD Series Soft Starter include:

Operational current 12 A up to 45 A
Horsepower rating up to 40 HP
Operational voltage: 220 VAC up to 600 VAC
24 VAC/VDC or 100-240VAC control voltage
Two phase controlled with internal bypass
Optional: motor overload protection (Class 10)
Compact 45 mm wide housing
Self-learning algorithm to optimize motor starts
Current balancing algorithm
Two relay outputs for Alarm and Top of Ramp
cUL, CE, CCC, EAC approvals
The RSGD Series Soft Starters are available from Carlo Gavazzi's North American network of sales offices, distributors, and online at www.GavazziOnline.com.
For more information on the RSGD Series Soft Starter, please click on any of the links below:


A Lifetime of Commitment to Automation
Carlo Gavazzi has sales offices spread across North America. Contact us today:
Or visit us at www.GavazziOnline.com
Download the GAVAZZI APP for mobile devices