May 2017 - Carlo Gavazzi is pleased to announce the new PD30CN Series Photoelectric Sensors with PointSpot Beam. The visible red light narrow beam makes detection more accurate and allows detection of smaller objects, if compared to standard sensors, but larger than those a laser can detect. When compared to laser sensors, the PointSpot beam is not only more economical, it's also safer, as there are no concerns with damaging people's vision and/or eyes.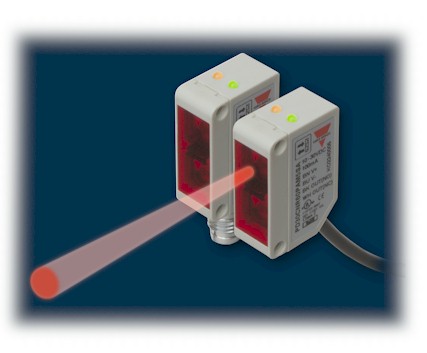 The new PD30CN Series consists of a background suppression version as well as a polarized retro-reflective version, both with a narrow red light PointSpot beam. The sensing distance is controlled by means of a potentiometer on the back of the housing and the adjustment is optimized for easy settings. With this expansion of the PD30 Series, the high-end PointSpot beam eliminates the halo light disturbance and increases detection reliability, they're also much more precise than standard LED technology.
The sensors are ideally suited for applications found on these types of equipment: Packaging, Palletizers, Material Handling, Plastics and Machine Tools.
The features of the PD30CN Series with PointSpot Beam include:

Elimination of disturbing halo light for best sensing performance
World standard housing style: 10.8 x 20 x 30 mm with two M3 mounting holes (25.4mm spacing)
N.O. and N.C. outputs, NPN or PNP versions
10 – 30 VDC supply
IP67 rating
CE and cULus approved
Potentiometer set-up
Connection cable
M8-4pin male connector
Full sensing family :
- Background Suppression, Active Pixel Sensor (APS)
with visible red light version, 250mm
- Retro-Reflective with visible red light version with
polarization filter,5m
The PD30CN Series Photoelectric Sensors are available from Carlo Gavazzi's North American network of sales offices, distributors, and online at www.GavazziOnline.com.
For more information on the PD30 Series with PointSpot Beam, please click on any of the links below:


A Lifetime of Commitment to Automation
Carlo Gavazzi has sales offices spread across North America. Contact us today:
Or visit us at www.GavazziOnline.com
Download the GAVAZZI APP for mobile devices