August 2015 – CARLO GAVAZZI is pleased to announce two new product lines designed specifically for harsh environments. The new ICS Inductive Proximity Sensors meet or exceed IP69K, ECOLAB, and FDA standards. The new CONB Series Cordsets meet or exceed IP69K and ECOLAB standards. Both the ICS Sensors and the CONB Cordsets are perfect for environments where high pressure sprays, high temperatures, or harsh chemicals are present.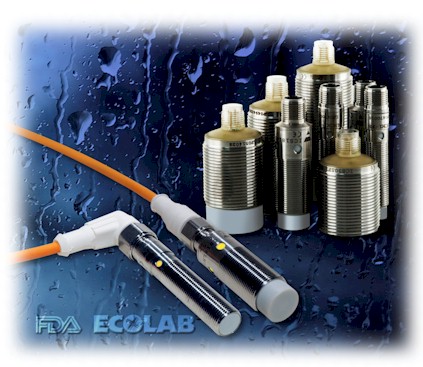 The ICS Series sensors are the ideal solution for harsh environments such as those found in the Food and Beverage, Mobile Equipment, Chemical, Pharmaceutical, Renewable Energy and Agricultural industries. Key features and benefits include:
IP69K ensures the sensor and cordset will withstand high pressure and high temperature cleaning processes
ECOLAB certification ensures resistance to many harsh acids, alkalines, aggressive chemicals, cleaning agents and disinfectants
FDA compliance assures that ICS Series sensors are made of materials approved for use in the food industry
Wide operating range of -40°C to +80°C ( -40°F to +176°F) easily accommodates both hot and cold temperature extremes
Will work reliably for up to 15 minutes in boiling water (100°C / 212°F) - thus accommodating cleaning process requirements
True microprocessor-based technology allows final calibration after the assembly, enabling greater temperature stability, reliability, and repeatability
The ability to re-program the microprocessor opens up opportunities to customize the sensor to specific OEM requests, such as special output types, switching frequencies, and timing functions
Clearly visible diagnostic LEDs are easily viewed from any direction, and provide sensor status, set-up assistance, as well as short circuit or overload indication
With up to 2,000 Hz operating frequency, the new ICS Series is one of the fastest inductive proximity sensors available on the market, making it the perfect choice for high speed counting and rotational speed monitoring
Permanently legible, laser-engraved part number, cULus / CE marks, and serial number are readily visible on the sensor housing
All sensors are cULus listed and CE marked

ICS Series inductive proximity sensors are available in a variety of configurations, including:

Three-wire DC wiring configuration
Available in M12, M18, and M30 housings
All housings are 316L stainless steel
Single (2-15mm) or double (4-22mm) sensing distance
Flush or non-flush mounting
Long barrel housings (short barrel also available for M30 housings)
Normally open or normally closed outputs
200mA PNP or NPN transistor output
By pairing the ICS Series or any IP69K rated sensors with the new CONB Series cordsets, a complete solution is available for the Food and Beverage industry, or any harsh environment application.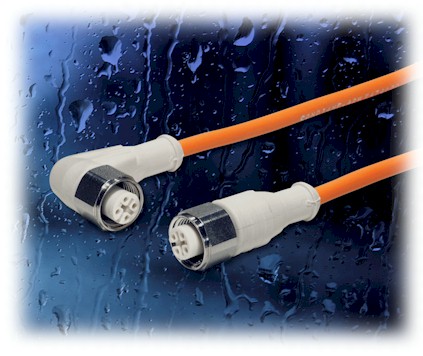 Key features and benefits include:
All CONB Series cordsets are IP69K rated, and ECOLAB and UL certified
Wide operating range from -40°C to 105°C ( -40°F to 221°F), one of the highest temperature ratings in the market
Orange Thermoplastic elastomer cable for clear visibility of dirt accumulation
Stainless Steel locking nut to resist corrosion
The CONB Series cordsets are the perfect complement to any IP69K rated sensor, including inductive, photoelectric, and capacitive sensors offered from Carlo Gavazzi. Available configurations include:
Cable length of 2 meters or 5 meters
Straight or 90° angle connector
Non-illuminated or LED versions
The IP69K ICS Series Sensors and CONB Series Cordsets are available from CARLO GAVAZZI's North American network of sales offices, distributors, and online at www.GavazziOnline.com

For more information on these sensors, please click on any of the links below:



A Lifetime of Commitment to Automation
Carlo Gavazzi has sales offices spread across North America. Contact us today:
Or visit us at www.GavazziOnline.com
Download the GAVAZZI APP for mobile devices