May 2019 – CARLO GAVAZZI is excited to announce the launch of a game-changing new product, the SCTL55 Series IO-Link Smart Configurator. It provides a means to configure most IO-Link sensors with a wireless device that, in essence, replaces the need to program via a USB IO-Link Master connected to a PC or via a network connected master device. The only thing required is the IO-Link Smart Configurator.
This device is portable and could be used anywhere such as on the plant floor or in the office. The device is battery powered and equipped with WiFi for IODD files download. Hence there's no need for power or a laptop. It is truly a user friendly, wireless solution.
If you're not familiar with IO-Link and what it is, the IO-Link organizers have produced a very nice video and brochure, which you can find here: IO-Link Video and IO-Link Brochure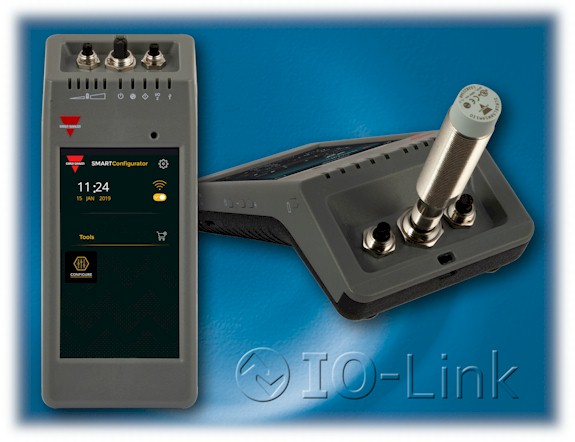 Benefits of the IO-Link Smart Configurator include:
Embrace Industry 4.0 technology via an IO-Link solution

Smart solution for small to large scale applications; anywhere and anytime

Easy to configure the sensors

Convenient monitoring sensors status and diagnostic

User friendly to use graphical user interface APP

Intuitive to navigate via high resolution touch screen display

Total mobility with handheld

Full connectivity w/WiFi for IODD files download

Open doors to many other more applications
Advantages of the IO-Link Smart Configurator include:
Only device like this on the market

Full mobility, battery operated with no wires attached

Dedicated display for full convenience

Friendly graphical user interface app

Built in memory and expandable memory
Features of the IO-Link Smart Configurator include:
M12 and M8 connectors

Suitable for 3 wire, 4 wire or 5 wire sensors

5.5" HD touch screen display 720 x 1280 pixels

16GB internal memory

MicroSD card expandable memory

WiFi enabled

Battery powered

LED battery indicators

Lanyard and belt clip for portability

Carlo Gavazzi Launcher Homepage

"Configure" app

Carlo Gavazzi App (downloadable for free)
The SCTL55 Series IO-Link Smart Configurator is available from Carlo Gavazzi's network of sales offices and distributors in the Americas, or at www.GavazziOnline.com.
More information on this new product can be found from the links below:
Carlo Gavazzi has sales offices spread across the Americas. Contact us today:
Or visit us at www.GavazziOnline.com